Tues 10/17/23 11:30amMT Lunch and Learn Virtual OPEN HOUSE and Zoom Meeting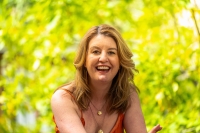 Tuesday 10/17/23 11:30amMT Lunch and Learn Virtual OPEN HOUSE and Zoom Meeting
Each month a new and fascinating speaker and topic! Join us!We'd love to see you in our zoom meeting room!Join us for our monthly virtual Mastermind/Workshop Lunch and Learn session!
You may join us ON ZOOM. Please register at link below to attend and receive your invitation and meeting link.

ONLINE ATTENDEES MUST REGISTER at:https://www.polkadotpowerhouse.com/upcoming-meetings/albuquerque-nm/11875-tues-10-17-23-11-30ammt-lunch-and-learn-virtual-open-house-and-zoom-meeting

Welcome New Members you can join us at https://www.polkadotpowerhouse.com/chapters/albuquerque-nm
First time guests will be treated to one free event.

Immerse yourself in an expansive, rapidly-growing, closely connected family of extraordinary professional women from around the globe. Our Polka DOT Sisterhood brings together women from all walks of life; age, race, background, location and industry.
Our speaker for October is Terra Ramachandran - a certified Life Coach, writer, and speaker who's passionate about helping mission-driven women bring their bold dream to life. And, according to Terra, that requires work on two sides:
Digging into the qualities that push a dream forward - like creativity, alignment, courage, and tenacity.

And...


Digging into the qualities that hold dreams back - like fear, self-doubt, over-thinking, and feelings of inadequacy.


An entrepreneur since 2010, Terra especially loves helping other women entrepreneurs find more flow and ease by diving into these topics…creating awareness where there was once confusion…and developing a plan of action from that place of clarity and confidence.
Terra believes that the best way to change the world is for more courageous, mission-driven women to step into their full power and potential, and she intends to do everything she can to make that happen!
Speaking about:
Your body is a truth telling machine. But you probably haven't been trained to listen to it. In fact, as a product of western culture, you've probably been trained to completely ignore the body and just use your brain when trying to make decisions…get things done…and figure out the best path for your life.
Now don't get me wrong - the brain is an impressive tool! The neocortex, or the conscious mind (the area responsible for reasoning and language), can process 40 bits of information per second.
But hold onto your hat! The body, which includes the rest of your brain and your entire nervous system, processes 11 million bits of information per second! So, it doesn't take a math genius to figure out which part holds more wisdom!
The trouble is, the body doesn't speak in language; it speaks in sensations. And we're not taught to read, listen to, or follow sensations. We're taught to listen to and follow language, and since the neocortex communicates in language via our thoughts, it becomes our default way of figuring things out, even though it's not the wisest part of us.
In this presentation, you'll learn how to read the signals your body is trying to send you to direct you toward your best decisions, your most energizing tasks, and your truest, most joyful life!

What Will Attendees Walk Away With:
1) Cut confusion and make the right decisions quickly
2) Slash overwhelm and increase your energy by looking at your to-do list in a brand new way.
3) Reduce your stress and increase your joy by living in alignment with your true desires.
Meeting Details
| | |
| --- | --- |
| Meeting Start Date/Time | 10-17-2023 11:30 am |
| Meeting End Date/Time | 10-17-2023 12:30 pm |
| Capacity | 25 |
| Registered | 8 |
| Remaining Seats Available | 17 |
| Speaker | Terra Ramachandran |