Weds 9/27/23 6pm MT In Person Dinner Meeting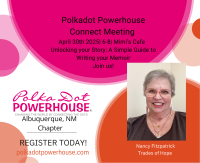 Wednesday,  September 27, 2023 6pm ABQ Chapter In Person Dinner Connect Meeting

Our September Speaker is Megan Magee, a Registered Dietetic Tech, Certified Mind-Body Eating Coach, and owner of Nourish Nutrition Consulting.  Megan has been studying and practicing nutrition for more than a decade, with emphasis on auto-immune conditions, diabetes/ metabolic syndrome, digestive complaints and food sensitivities and weight loss.  By bridging biology/ physiology with psychology, Megan is best able to support her clients in getting to the root of their health challenges and learn individualized strategies for healing the body.  Megan is passionate about educating clients about eating for a lifetime of health and wellness.  After all, food is thy medicine! 
She will be speaking about the 3 E's.
Engage, Embrace and Energize Your Life 
Are you an "e-women"…everything to everyone?   
As women and entrepreneurs, we tend to take care of everyone else and everything else, and therefore do not practice self-care and active stress management, and therefore often hit boredom and burn-out.  In this presentation, participants will learn about the 3 "E's"—ENERGIZE, ENGAGE and EMBRACE—to learn simple and creative strategies for optimizing energy, engaging in health, embracing and managing stress, and thriving in one's personal and professional life. 
Capacity Mimi's is 25 capacity
Event details :
Welcome to the Albuquerque Chapter of Polka Dot Powerhouse! We have a monthly in-person dinner meeting on the 4th Wednesday of each month!
We invite you to attend our meeting on Wednesday, Date, at Mimi's Cafe from 6 to 8pm MT. Registration is required. https://www.polkadotpowerhouse.com/upcoming-meetings/albuquerque-nm/11797-weds-9-27-23-6pm-mt-in-person-dinner-meeting

The Albuquerque Chapter of Polka Dot Powerhouse would love to see you! Join us to learn, network, and be inspired by other area professionals, business owners, entrepreneurs, and visionaries!
New Members are welcome and can join the sisterhood at https://www.polkadotpowerhouse.com/chapters/albuquerque-nm
Guests will be treated to one free meeting before joining our membership.
Immerse yourself in an expansive, rapidly-growing, closely connected family of extraordinary professional women from around the globe. Our Polka DOT Sisterhood brings together women from all walks of life; age, race, background, location and industry.
Together, we drive momentum, learn and support from each other, collaborate in business and link through referrals. Every DOT is unique and brilliant in her own way. Our commonality is that as a community we share a collective knowledge, understanding and awareness that when we surround ourselves with the most incredible women in the world, our business and lives change exponentially.
 25 IN-PERSON SEATS. Due to COVID 19 NM Health Department recommends that if you are NOT vaccinated, you should wear a mask when not eating or drinking.
Bring your positivity, your collaborative side, and your joy. Leave your drama llama outside. Only those who register are confirmed a seat.
WHAT TO KNOW IN ADVANCE OF ATTENDING A MEETING:
Arrival: Bring your smiling face and we'll make sure you feel comfortable when
you arrive!
Dinner:  Arrive 15-30 min. early to order some food AND get a good seat!
Handouts: We prefer to keep business handouts off the tables we sit at, but you
are welcome to share literature, non-food items etc. on our Polka Dot share table
at the front of the room.
Business Cards:  Bring plenty of business cards, meetings can fill with members
and guests!
Introductions:  Each person has 60 seconds to share about themselves and/or
business during our introductions (there will be a cheat sheet too!).
PDP is different! Polka Dot Powerhouse is different than other networking
groups. Women join PDP for an assortment of reasons or seasons in their life.
Some come for personal relationships, and some for business.
Build relationships first! We believe in building connections and relationships
first. This way, those looking to do business together will do so organically and
naturally because people tend to do business with people they know, like and
trust.
Cancellations: Our meetings are registered for a full house with a waiting list. If
for any reason you are not able to attend, we ask that you let me know
(Email me: This email address is being protected from spambots. You need JavaScript enabled to view it.) so we can fill your spot with someone on the waiting list.
Looking forward to seeing you!
Diana Webb
Managing Director
CLICK ON THE REGISTRATION BUTTON BELOW!
THEN DON'T FORGET TO CLICK THE "PROCESS REGISTRATION" BUTTON AFTER YOU FILL OUT THE FORM!
Meeting Details
| | |
| --- | --- |
| Meeting Start Date/Time | 09-27-2023 6:00 pm |
| Meeting End Date/Time | 09-27-2023 8:00 pm |
| Capacity | 25 |
| Registered | 15 |
| Remaining Seats Available | 10 |
| Location | Mimi's Cafe |