Worcester Connect Meeting 10/27 Dinner- In Person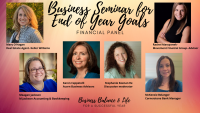 We look forward to seeing you at our monthly connect.  This meeting will be in person, at O'Connors Restaurant. An email will be sent on the Tuesday before the meeting with details.  The meeting typically runs for 2 hours; we do follow an agenda set by Polka Dot Powerhouse and your participation is encouraged! You will be given an opportunity to introduce yourself, learn about Polka Dot Powerhouse, Celebrate, share events and be inspired and empowered by our speakers!
Speaker: Business Seminar for Year End Goals! 
 Is your business ready to end the year strong? Join a panel of chapter members in the finance sphere, who will share their tips, tricks and insights to help you end your year strong and prepare you for a fabulous 2022! 
Please register and spread the word to others you know who would benefit from this network & Invite them to be your guest.
Guests can come one time to check us out!
If you are a guest, make sure you talk to me after for a special gift!
We look forward to seeing you for our connection meeting.
Please stay safe and reach out if you need support in any way. We are all here for one another. 
Please feel free to reach out if you have any questions or have challenges with making or cancelling reservations. This email address is being protected from spambots. You need JavaScript enabled to view it.This email address is being protected from spambots. You need JavaScript enabled to view it.
Meeting Details
| | |
| --- | --- |
| Meeting Start Date/Time | 10-27-2021 6:30 pm |
| Meeting End Date/Time | 10-27-2021 8:30 pm |
| Capacity | 30 |
| Registered | 10 |
| Remaining Seats Available | 20 |
| Location | O'Connors Restaurant |