December Business Lunch Connect & Holiday Celebration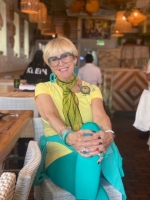 Join us to learn, network, and be inspired with other area professionals, business owners, entrepreneurs, and visionaries! Chapter or Visiting Members are always welcome!  New or prospective members can join us at www.polkadotpowerhouse.com.  Come prepared to tell us about your passions and why you are doing what you do, come ready to celebrate you and your accomplishments, and come ready to collaborate with a Dot or two.
Featured Speaker: Bonnie Roseman with Bonnie's BLT, West Palm Beach, FL
The press has designated Bonnie as the ultimate fashion expert.   Bonnie, a Philadelphia gal who loved collecting, began her career selling art.      Recognizing her talent to select uniquely beautiful objects she shifted into fashion, promoting "art to wear" collections from designers all over the world.
 To serve clients who don't fit the mold of ready to wear sizing, Bonnie created designs that can be modified.  Bonnie's BLT has evolved into a full service boutique for women of all body types and lifestyles, featuring wrinkle-free fabrics and unique accessories that pack well and travel lightly. 
 As far back as the 1990's, Bonnie was acknowledged in People Magazine, appeared on the NBC Today Show with Jane Pauley, and became the national spokeswoman for Polaroid camera.  She went on to design collections for the Home Shopping network and Home Shopping Europe before opening a retail boutique off Worth Avenue.
 After a storefront on Worth Avenue for over a decade, Bonnie now sees her clientele exclusively by appointment only. Each week she hosts a radio segment on Legends Radio 100.3 FM Palm Beach called Bonnie's Buzz About Town, featuring cultural destinations and travel wardrobe tips. 
Topic: Feeling Good and Looking Even Better
Description: Bonnie will demonstrate how to pack a carry-on bag using my 3 golden rules.  i will bring the basics and accessories tor a travel wardrobe that would provide all she needs for most occasions from day through evening.
Takeaways: 
1. Build your basic framework for a great wardrobe
2. Liven those basics with fun novelty items
3. Tweak your closet with touches of color
Meeting Details
| | |
| --- | --- |
| Meeting Start Date/Time | 12-22-2021 12:00 pm |
| Meeting End Date/Time | 12-22-2021 2:00 pm |
| Capacity | 50 |
| Registered | 14 |
| Remaining Seats Available | 36 |
| Location | Eastpoint Country Club |