October Business Lunch Connect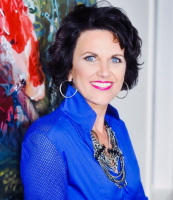 Join us to learn, network, and be inspired with other area professionals, business owners, entrepreneurs, and visionaries! Chapter or Visiting Members are always welcome!  New or prospective members can join us at www.polkadotpowerhouse.com.  Come prepared to tell us about your passions and why you are doing what you do, come ready to celebrate you and your accomplishments, and come ready to collaborate with a Dot or two.
Wear your SCARIEST or MOST CREATIVE Halloween Costume for a chance to win a prize! Be prepared for a Spook-tacular Meeting!
Featured Speaker: Marcella Scherer, CEO and Owner at Marcella Scherer Image and Presence Consultant
Marcella Scherer is an expert in her industry with over 30 years' experience transforming the lives of others from head to toe and inside and out.
 As a certified image consultant and leadership coach, she works with business owners and professionals to align their inner essence with their outer presence by tapping into the "ABCD's" of Image; Appearance, Behavior, Communication and Digital Presence. Marcella's works goes much deeper than working on only the outward appearance by shifting mindset, heightening confidence, behavior and self-awareness to upscale their personal brand so that they can attract all they desire.
 She uses her 28 years in building a multimillion-dollar business in the direct selling business and being in the top 1% of her former company to coach and develop others to their full potential.
 She is an international speaker, coach, corporate trainer and bestselling author. She has been featured on CNN, NBC, CBS, Fox, ESPN, Kiplinger's Report and the Palm Beach Post. Marcella is passionate about nature, travel, skiing and making a difference through her philanthropic endeavors. 
Topic:  Achieving all that you desire and living your best life takes focus, determination and two things that can change the trajectory of your path. Marcella will share how these two principles transformed her own life and that of her high level clients to be a magnet for their success. 
Takeaway:  Change your mind, change the trajectory of your life and all you attract. The way you show up, in ALL you are, has a direct correlation to your success
Meeting Details
| | |
| --- | --- |
| Meeting Start Date/Time | 10-27-2021 12:00 pm |
| Meeting End Date/Time | 10-27-2021 2:00 pm |
| Capacity | 50 |
| Registered | 21 |
| Remaining Seats Available | 29 |
| Location | Eastpoint Country Club |