September Business Lunch Connect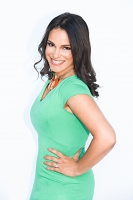 Join us to learn, network, and be inspired with other area professionals, business owners, entrepreneurs, and visionaries! Chapter or Visiting Members are always welcome! New or prospective members can join us at www.polkadotpowerhouse.com. Come prepared to tell us about your passions and why you are doing what you do, come ready to celebrate you and your accomplishments, and come ready to collaborate with another Dot or two.
Speaker: Karla Merrell, The Event Maximizer
Karla Merrell, the Event Maximizer and creator of The Client Maximizer Course, helps driven female entrepreneurs that have been in business for up to 5 years, grow their live and online businesses by finding their Most Profitable audience, getting a stream of leads and closing a new sale in 30 days or less.
Karla bravely took the leap of starting her own business 8 years ago with no hospitality background, contacts in the industry, email list or fancy website. Since then, she has taking massive action to build a thriving business that has helped dozens of female entrepreneurs attract their ideal audiences and monetize their services.
Backed by a law degree and over 7 years of meeting planning, marketing and sales experience, Karla has made the Client Maximizer System accessible to all kind of female entrepreneurs via a hybrid digital product and live coaching getting business from struggle to success.
Karla loves hiking her way to her 50-park goal, travel and working from anywhere as well as spending time with her 2 kids, her husband and her rescue dog in sunny Florida.
Topic: There is Nothing Wrong with You: Crisis-Proof Your sales, Get Leads, and Close Sale Regardless of the Economy!
Takeaways:
- Identify what is your most profitable audience
- Learn what is the best way to increase your pricing
- Learn what your message needs to get prospects to convert into clients
Clients are the engine that moves your business. Without them your business could become an expensive hobby. Are you prepared to attract new prospects consistently regardless of the circumstances around you? Now more than ever is crucial for you to know if the problem that you solve is still relevant to your audience. Get obsessed with their needs rather than your product and service and you will always have leads. In this Masterclass, Karla offers 3 strategies that every female entrepreneur can implement TODAY to pivot their audience and adapt to the times now and in the future to crisis-proof their sales!
Note: The Zoom link and passcode will be emailed to all registerted attendees.
Meeting Details
| | |
| --- | --- |
| Meeting Start Date/Time | 09-23-2020 12:00 pm |
| Meeting End Date/Time | 09-23-2020 2:00 pm |
| Capacity | 40 |
| Registered | 19 |
| Remaining Seats Available | 21 |
| Location | ZOOM |