Supply Chain and the Consumers Goods Industry 11/9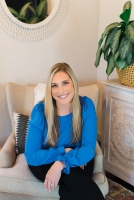 Speaker Topic: Jennifer Becker has worked in the Consumer Goods Industry for over 15 years and will be discussing important topics surrounding Supply Chain in the Consumer Products Goods Industry and why we should all be buying from US Manufacturers and working to support our local economy.
Bio: Jennifer was born and raised in Southern California. (Yes, one of those dang Californian's who moved to Idaho). Jennifer started working at 14 at a shaved ice cart and was managing 3 locations by age 16. She gave up her career in shaved ice management to pursue modeling. Modeling allowed her to start investing in real estate at age 18. By age 20 she decided college might be a good idea after all. She wasn't sure what she wanted to do and considered being: an elementary school teacher, a realtor, or a nurse, but soon realized she couldn't stand the sight of blood or needles. Jennifer ended up working at an aerospace company that her grandfather retired from and both of her parents were employed with. As a 3rd generation aerospace employee she began working her way up the corporate ladder in the Supply Chain organization as she earned her bachelor's degree in Business Management. Jennifer took the opportunity to work in the consumer packaged goods industry, after 9/11 made the aerospace industry volatile. She turned that opportunity into an international organization by age 30. That is where her love of the consumers goods industry began. She currently works as a manufacturer's rep for a US based manufacturer.Jennifer has been married to her husband Kurt for 15 years. She is mom to Kamryn and Jillian who keep her busy. Weekends are spent on the softball field, exploring new places, or getting away in their RV. As a family they love all of the seasons which is why Idaho was a perfect fit. Jennifer & her family enjoy camping, wakeboarding, water skiing, snow sports, and off-roading in their side by side.Jennifer believes her success has come from seeking out great mentors, managing time wisely, continually working to learn new things, and keeping a positive attitude.
Meeting Details
| | |
| --- | --- |
| Meeting Start Date/Time | 11-09-2021 11:30 am |
| Meeting End Date/Time | 11-09-2021 1:30 pm |
| Capacity | 25 |
| Registered | 26 |
| Remaining Seats Available | -1 |
| Location | Twigs Bistro |