March Business Lunch Connect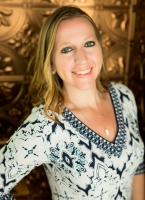 Join us to learn, network, and be inspired with other area professionals, business owners, entrepreneurs, and visionaries! Chapter or Visiting Members are always welcome! New or prospective members can join us at www.polkadotpowerhouse.com. Come prepared to tell us about your passions and why you are doing what you do, come ready to celebrate you and your accomplishments, and come ready to collaborate with another Dot or two.
Featured Speaker: Jennifer Wiggins, CEO of Clear SEM Solutions.
Jennifer Wiggins is CEO of Clear SEM Solutions, a digital marketing and web development agency founded in 2007 with her husband Chris. Clear SEM has a team of leaders in the fields of Google, SEO, Social Media, Reputation, Paid Ads, and Web Development.
Topic: Creating and Defining Your Target Audience
Description:
Do you know who your customers are?

Do you know where they are?
Can you clearly define them? With so many options for marketing and advertising how do you determine what platforms to advertise on?

How do you spread your budget?

Jennifer will share a process they use internally at Clear SEM Solutions to create a buyer persona and to create a target audience for their clients.
Meeting Details
| | |
| --- | --- |
| Meeting Start Date/Time | 03-16-2021 12:00 pm |
| Meeting End Date/Time | 03-16-2021 2:00 pm |
| Capacity | 40 |
| Registered | 1 |
| Remaining Seats Available | 39 |
| Location | Santa Lucie River Club at Ballantrae |