01-10-24 IN PERSON 9:00am(cst): COFFEE CONNECT & GOALS GROUP TX Hill Country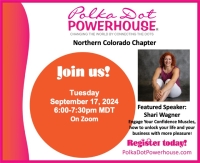 We are the Texas Hill Country Chapter of Polka Dot Powerhouse.  Welcome to our monthly COFFEE CONNECT & GOALS GROUP
Our monthly Lunch Meetings, "Coffee Connects," Zoom Meetings, and Pop-Up Socials are all held once each month. Guests are encouraged to join us for one event of your choosing before deciding to join us in membership.*
We invite you to join us for all of the magic. Polka Dot Powerhouse is unique as it welcomes all women, regardless of profession, age, or experience. This is not your typical networking group. We focus on building relationships, connecting women in sisterhood, and supporting and celebrating one another throughout the year. We are an international group of 3,000 women all committed to supporting and encouraging one another! Come find out more and see for yourself how we might enter the room as strangers but leave as friends and sisters.
Our Coffee Connect is the perfect opportunity for you to come meet a few Dot Sisters and get a feel for what this amazing organization is all about. You and your friends are all welcome! While our lunch meetings follow a specific agenda with an outstanding Guest Speaker each month, our Coffee Connects are way more casual. Come on out to Mix-n-Mingle and simply say hello. We can't wait to meet you.
Our Coffee Connect is followed by our Members Only Goals Group. This is yet another of the countless benefits of membership in this organization. Goals Group meets monthly and is led by Managing Director, Kortnee Whitehawk, MS, Ed. Kortnee is a Spiritual Teacher, Healing Guru, and Life Transformation Expert. The group will help you to achieve targeted goals in your business and in your personal life, and transform the way you approach your career, your business, and your SELF! You can find an accountability partner, identify limiting beliefs, step into a new mindset, connect with other high-achieving women, develop new ideas for branding, gain new marketing and sales strategies, and so much more. The bottom line is that we are here to help you unearth your authentic soul purpose and step into joy! Together we are stronger... and the Goals Group is your very own ready-made success team!
Coffee Connect 9:00am- 10:15am
Goals Group 10:30 - 11:30am (Members Only)
Polka Dot Powerhouse, founded ten years ago, is all about value! We value your unique gifts, we value your time, and we value one another. There are so many benefits to being a Polka Dot. Our monthly agenda is designed to provide multiple opportunities for learning, sharing, self-discovery and self-development. (We do not follow this agenda at our Coffee Connects.) Our monthly luncheon agenda includes the following:
Updates & Info: We will share Polka Dot Powerhouse company and local chapter updates and important information about upcoming events and worldwide opportunities and happenings.
Ice Breaker & Introductions: We are excited to get to know you so be ready to introduce yourself. Nervous about speaking publicly? No worries… At each meeting we offer a fun ice-breaker question plus we encourage you to be brief! Each participant will have 60 seconds to share.
Celebrations: The Dot Sisterhood is all about lifting one another up with laughter and joy! This is your moment to share a recent celebration or accomplishment (personal or professional). 
Collaborations: We want to hear all about how you've been connecting and collaborating within the enormous WORLDWIDE network of Dot Sisters around the globe and here locally.
Events, New Products & Services: Perhaps you have a special event or upcoming sale you want us to know about? Here's your chance to share about your products and services and learn about the other Dots in the room. (Please keep it to 60 – 90 seconds.)
Referrals Needed:  We are here to support each other personally and professionally.  Do you have a need that we can help with?  Let us know so we can help or point you in the direction of someone who can.
Guest Speaker: Each month we offer an amazing educational session that will help you grow personally and professionally. You'll probably want to have paper and pen ready for the impactful information that will be shared.
Connections: Connecting women is the core value of this amazing organization! This is your moment to create new relationships and get to know each other on a deeper level through being provided opportunities between meetings to deepen your connections. There is nothing quite like a Polka Dot Connect.
Traveling Award: Another chance to recognize one another and share a whole lot of love.
Group Photo, Wrap Up and Questions: Don't leave early! You'll miss the photo!
Please register now. If you are a guest, please list who referred you. If you are a visiting Dot, please tell us in the comments from where you are visiting. We can't wait to meet you!
Members, we truly do look forward to seeing you!  If you are bringing a guest (and we hope you are), please have them register as well.
Questions?  Please text, call or email Kortnee at 210-378-7790 This email address is being protected from spambots. You need JavaScript enabled to view it. (A text message is best and will get you the quickest response... for some reason my voicemails seem to disappear into the ether for days and days before actually landing in my voice-mailbox! TEXT ME!!!!)
*Are you a new GUEST here at PolkaDot Powerhouse? I would love to visit with you personally over coffee or on Zoom to share more about this wonderful and unique organization. There's truly nothing else like it out there! Please reach out, so we can talk.   -Kortnee, Managing Director :) 
Meeting Details
| | |
| --- | --- |
| Meeting Start Date/Time | 01-10-2024 9:00 am |
| Meeting End Date/Time | 01-10-2024 11:30 am |
| Capacity | 30 |
| Registered | 0 |
| Remaining Seats Available | 30 |
| Location | Crosswalk Coffeehouse & Cafe |