11:00AM Central - September Meeting South Austin/Kyle, TX on ZOOM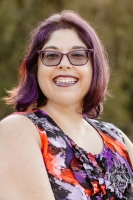 Speaker: Loulu Lima - Owner/Founder of Book Here Give Here
Topic: Traveling During COVID
Travel today is a personal choice. How to do it safely and enjoy yourself requires a little bit of learning. Let's have the conversation.
I fell in love with travel as a child. (Fun fact: I got my first passport at 6 months old!) I got my Hospitality degree in Switzerland and my Culinary Arts in New York. Living abroad for 2 years as I completed my degree afforded me the opportunity to galavant throughout Europe as a 17-year old. I learned about what true cultural immersion really meant -- and how travel can make people more tolerant, more visionary, and more connected to others. This experience opened my eyes to the fact that travel is a necessity, not a luxury.
From then on, I was determined to keep using travel as a "living classroom." I travel to various destinations around the globe to meet local entrepreneurs. After gaining experience working for well-known companies like Travelzoo, Travelocity, and Loews Hotels, I took my passion to the next level and started my own company, Book Here, Give Here.
I wanted to go beyond amazing, memorable vacations and give people the opportunity to really experience a place like a local, and to make a positive impact there.
I curate travel experiences around the globe by partnering with small businesses locally to create super amazing trips that are also sustainable and equitable.
Meeting Details
| | |
| --- | --- |
| Meeting Start Date/Time | 09-10-2020 11:00 am |
| Meeting End Date/Time | 09-10-2020 1:00 pm |
| Capacity | 40 |
| Registered | 22 |
| Remaining Seats Available | 18 |
| Speaker | Loulu Lima - Traveling During COVID |
| Location | ONLINE ZOOM - S.Austin/Kyle |