11:30am PST VIRTUAL meeting. Speaker: Jackie Cote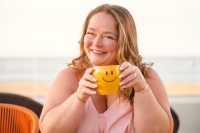 Topic: Awaken, Empower and OWN You!!
Do you sometimes feel like you have lost that fearless badass inside of you?
Hesitating on making the decision in fear of the lack of outcome

Worried about what people will think because you are different than the rest

Over thinking things, frozen and not taking action like you used to

Remember that 20 something who didn't know too much about the world. . .

The one who didn't doubt her decisions and just went for it!

The one who made sure she was the priority because she didn't know any different!

The one who felt powerful and scared at the same time and knew it would all work out!

It's time to Awaken her again because she is in there dying to come out and play!!
It's time to Empower her to confidently decide that she gets to live the life she desires!!
It's time to unapologetically OWN YOU and all your God given power and do your magic in the world!
About Jackie:
Jackie Cote is a Freedom Mentor, Speaker and RV Adventurist who helps hyper driven successful people who already have money and success but don't have a life they love. After working with Jackie they learn how to awaken, empower and own the powerful leader within so they can create the life they truly desire of freedom, adventure, and love and fit the money and success into that life. 
Jackie is a Jersey girl at heart who comes with 30 years of leadership management experience in the restaurant industry and has helped over 300 people move to higher levels in their career and life. Jackie took the leap into entrepreneurship by creating a fully virtual coaching business and is now living out her dream of freedom and adventure by traveling the country in an RV with her man and 2 pups meeting virtual friends and changing lives on her terms. 
Meeting Details:
Please register by 5pm on Thursday 5/18
Roster and Zoom information will be sent the evening on Thursday 5/18
Kindly allow time in hour schedule to attend the entire meeting
Meeting Details
| | |
| --- | --- |
| Meeting Start Date/Time | 05-19-2023 11:30 am |
| Meeting End Date/Time | 05-19-2023 1:30 pm |
| Capacity | 50 |
| Registered | 1 |
| Remaining Seats Available | 49 |
| Location | Zoom |