11:30am PST In-Person Lunch connect. Speaker: Jen Marples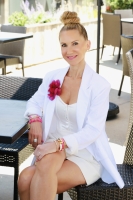 Women Supporting Women: We Must do Better!
Society has conditioned us to compete with other women constantly, and the time is now to do better in supporting each other. Jen believes that women are so much better together! We must praise another woman's success, make intentional connections, and strive to lift other women whenever possible. You'll learn how to up your game by supporting women in business and life with real, actionable tips and tools. Jen will also discuss how to flip the script on negative thoughts and judgments we unconsciously make about other women. When women band together, show up in their true power and link arms, we will be the change we want to see in the world! 
About Jen Marples:
Jen is a champion of the midlife woman and a cheerleader for ALL women. She's an entrepreneur, motivational speaker, podcaster, and coach. She puts midlife women first and preaches: You're Not Too F***ing Old!Ô to do whatever the F you want! Jen hosts The Jen Marples Show podcast, which was recently featured in Marin Magazine, Tiburon Belvedere Magazine, and Malibu Magazine. The show is dedicated to helping and inspiring midlife female entrepreneurs to achieve the business and life they desire. With over 100 episodes published to date, Jen has interviewed business leaders, celebrities, authors, as well as shared valuable business and life advice. Jen is an accomplished 25+ years marketing executive who ran her successful, SF-based firm, Koa Communications, for 12 years. She's been helping women for decades achieve life and career success and currently offers 1x1 private coaching, masterminds, workshops, and events and is a frequent speaker around the country. She lives in Marin County with her husband and three teens and can be found chilling out most days in a hot yoga class.
Meeting details:
Register before Monday, March 6 @ 5pm.  
Lunch is $ 38 - payable by cash or check
Late cancelations or no-shows, will be responsible to reimburse me for their lunch payment
Toiletry collection for the St Francis Centre, Redwood City:
 We will be giving back to our community this quarter by collecting toiletries for the St Francis Centre.  If you want to participate – please bring toiletries to the meeting. Michelle Ortiz, who is very involved in the Centre, will deliver the toiletries to St Francis Centre.
 About the St Francis Centre: "To step into the St. Francis Center — a block off of El Camino Real in South Redwood City is to enter into a center that once served just as a food pantry and clothing exchange. Sister Christina Heltsley has grown the center through community volunteers to create a thriving, low-income immigrant neighborhood with low-income housing, a school, community gardens, and youth center.   
On the ground floor, volunteers sort bags of clothes — they "rehome" about 35,000 bags a year — while a crew in the food pantry assembles boxes of produce, dairy, meat, and canned goods. 
The facility also has a shower and washer-dryer setup for unhoused neighbors. 
They look for toiletries that for showers, towels, and other goods for their neighbors to stop in and cleanup"
 You can read more in this article that was recently published about the St Francis Centre:
https://www.sfchronicle.com/bayarea/article/nun-north-fair-oaks-17797122.php#photo-23503007
Meeting Details
| | |
| --- | --- |
| Meeting Start Date/Time | 03-07-2023 11:30 am |
| Meeting End Date/Time | 03-07-2023 1:30 pm |
| Capacity | 28 |
| Registered | 28 |
| Remaining Seats Available | 0 |
| Location | Divino Ristorante |