11:30am PST In-Person meeting. Speaker: Retha Theron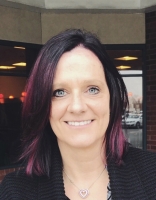 Topic:  Creating your self-care bouquet! 
 About Retha:
Retha Theron was born in South Africa, married with three adult children, and moved to the USA in 1998.
 She lived in Chicago for over twenty years and relocated with her family to the Bay Area in 2020. She is an artist at heart and calls herself a modern hippy, and she loves being creative. Life itself is her canvas, and she lives by the motto of "living life to the fullest". Retha has a passion for helping hurting women and wants people to find joy in life, which led to her becoming deeply involved in various types of counseling in 2009 and completing her Master of Art in Counseling in 2022.
 She has been instrumental in developing counseling curricula used by over a thousand leaders in various capacities in different global organizations. She also serves as a chaplain for the Salvation Army and the Billy Graham rapid response center in her spare time, with her specialty training that includes disaster and trauma counseling.
 But she says she is not done with her training yet. She wants to incorporate her art and creative side in her practice with art therapy and is pursuing her degree in art therapy in 2023. 
Meeting information:
Please register by 5pm on Monday 2/6 (I need to confirm numbers with the restaurant)
Lunch is $ 38 per person - cash or check
If you cancel after 5pm or do not show - you will be responsible to reimburse me for your lunch payment
Meeting Details
| | |
| --- | --- |
| Meeting Start Date/Time | 02-07-2023 11:30 am |
| Meeting End Date/Time | 02-07-2023 1:30 pm |
| Capacity | 16 |
| Registered | 16 |
| Remaining Seats Available | 0 |
| Location | Divino Ristorante |