Monday 9/25 Evening IN PERSON Connection Mtg 630p-830p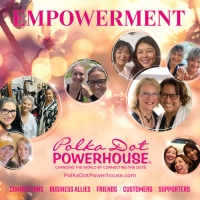 Welcome to the Pittsburgh Polka Dot Powerhouse chapter!!  Be a part of the celebration of connecting the Dots one woman at a time.
We are so happy to have you join us for our SEPTEMBER IN PERSON monthly chapter connection meeting.  Our meeting starts at 6:30pm Eastern at Panera in the Galleria in Mt. Lebanon.   Arrive between 6pm and 630pm to network and order anything you would like before the meeting starts.  The cost of food and drink is each attendee's responsibility.  
Please join us to connect with awesome women in our chapter and Dot sisters from coast to coast and around the globe.
Here is what you can expect at our meetings.
We want to celebrate you!
We want to connect with you!
We appreciate your gift of your time!!
Our agenda includes:
1 Introductions:  please limit introductions to 1 minute.  We want to get to know a bit about you.  There will be a card available to help.
2. Collaborations: who are you collaborating with or who do you want to collaborate with.  Most likely, there is a Dot for that!
3.  Celebrations: as women, we do not celebrate what we are doing each and every day.  Do you know how amazing you are?  Let's celebrate!!  No celebration is too big or too small.  This is your time to shine!
4. Sales and Events: We will have a table to leave any sales information you like.  If you have an event coming up, we will allow people to share in 30 seconds or less.
5. Company and chapter news!  This is to talk a little about our chapter and what is happening with Polka Dot Powerhouse.
6.  Our speaker this month will be Christina Fontana.  Her topic is: Reignite Your Light: Simple, Effective Burnout Prevention Strategies.  Bring paper and pen to capture all of the good nuggets she shares with us. 
7. Connections:  We connect women!!  This is the foundation of Polka Dot Powerhouse!!  Connections allow us to get to know each other for who we are, not just our business.  Please fill out the connection slips so we can get you connected.  In fact, connections is where the magic happens.
8.  Traveling award!  
9.  Questions?  Thoughts?  Hope you loved the Dot energy this month at our chapter connection meeting.
Meeting Details
| | |
| --- | --- |
| Meeting Start Date/Time | 09-25-2023 6:30 pm |
| Meeting End Date/Time | 09-25-2023 8:30 pm |
| Capacity | 30 |
| Registered | 4 |
| Remaining Seats Available | 26 |
| Speaker | Christina Fontana |
| Location | Panera |