In-Person: September 2023 Petaluma Polka Dot Powerhouse Connect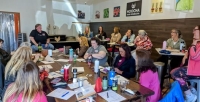 We look forward to seeing you at our monthly connect; this meeting will be held in person. An email will be sent the day before the meeting with the agenda and roster of attendees.  The meeting typically runs for 2 hours; we do follow an agenda set by Polka Dot Powerhouse and your participation is encouraged! You will be given an opportunity to introduce yourself, learn about Polka Dot Powerhouse, Celebrate, share events and be inspired and empowered by our speakers!
Cost of this meeting is $5, paid to Hoocha Kambucha. The location does not provide food so you are encouraged to bring your own lunch and/or snack. They do have beverages available for purchase (kombucha, bottled and sparkling water).  The meeting will be held indoors and is open exclusively for the Petaluma Polka Dot Chapter.
Please feel free to reach out if you have any questions or have challenges with making or cancelling reservations. This email address is being protected from spambots. You need JavaScript enabled to view it.
Meeting Details
| | |
| --- | --- |
| Meeting Start Date/Time | 09-28-2023 11:30 am |
| Meeting End Date/Time | 09-28-2023 1:30 pm |
| Capacity | 30 |
| Registered | 19 |
| Remaining Seats Available | 11 |
| Location | Hoocha Hard Kombucha |