Speaking Online for Free: A Surprisingly Profitable Way to Attract New Clients - with Mary Cravets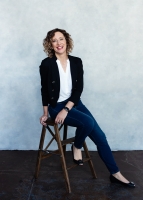 Speaking has always been a great client-generation strategy, and with the massive move to virtual meetings, this opportunity has multiplied exponentially. This shift creates endless opportunities to expand your reach without travel costs or the pressure of a live in-person audience! How do you make sure your speaking strategy brings in new clients, instead of being just a frustrating waste of time? Mary Cravets built her multi-six-figure business primarily through no-fee speaking, and in this engaging talk she'll show participants how to: * Design a plan of exactly what to do before, during and after a speaking gig to make your audience hungry to work with you (even before you walk through the door) * Understand the one thing you MUST do to turn no-fee speaking into a steady stream of great clients * Integrate speaking into a complete client generation strategy so you can build a profitable business, without working nights and weekends.
Mary Cravets is a Client Generation Expert and International Speaker, who helps entrepreneurs significantly grow their businesses without working nights and weekends. Using her methods, the majority of her clients quickly increase their income by 50% or more. Mary's clients include the former CFO of Microsoft North America, thought-leaders in the coaching industry and rising stars in a variety of other professions, including doctors, lawyers, consultants, and graphic designers. Mary is also an avid roller coaster enthusiast, obsessed with otters, and a member of her local NAACP branch.
Be sure to save this link to your calendar:
https://zoom.us/j/6507998768
Passcode: 045424
Meeting Details
| | |
| --- | --- |
| Meeting Start Date/Time | 04-20-2021 11:30 am |
| Meeting End Date/Time | 04-20-2021 1:00 pm |
| Capacity | 35 |
| Registered | 31 |
| Remaining Seats Available | 4 |
| Speaker | Mary Cravets |
| Location | https://zoom.us/j/6507998768 |