Aug 13 (Thurs) MetroWest Lunch Connect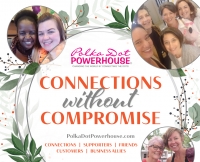 **August meetings are still by zoom. The link will be in your reminder email sent the day of the meeting. If you sign up on the day of the meeting after I've sent the packet you can try reaching out to me for the link This email address is being protected from spambots. You need JavaScript enabled to view it.
PDP is about making genuine connections with women that lift you up and want you to succeed.

Join us for one of our monthly MetroWest Meeting lunch connects and meet fabulous current and future "Dots". We bring positivity and enthusiasm to every meeting - and to every chapter of our lives. Do you want to surround yourself with positive, abundance mind-set, goal-oriented people? If you're ready to move forward and up both personally and professionally then this is the group for you. If you're ready to create positive change in your life, then this is the group for you.

Spots fill up quickly and you must register to attend. The meeting is from 12:00-2:00 pm.
Suzanne Moore, MD of Hanover PDP is our speaker, "The Impact of Being a Leader in Business & in Life"
Seats are limited - don't hesitate.

Contact Jody Comins, Managing Director, with any questions at This email address is being protected from spambots. You need JavaScript enabled to view it.
Meeting Details
| | |
| --- | --- |
| Meeting Start Date/Time | 08-13-2020 12:00 pm |
| Meeting End Date/Time | 08-13-2020 2:00 pm |
| Capacity | 30 |
| Registered | 15 |
| Remaining Seats Available | 15 |