How to Activate Your Power Daily - November Dinner Connect (6PM – 8PM)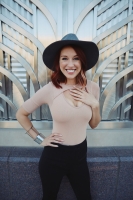 The Las Vegas Chapter of Polka Dot Powerhouse invites you to come to visit and meet like-minded women, to be inspired, while meeting women and entrepreneurs that want to connect and help each other grow professionally and personally. You will love this group of amazing women and we all share a common goal of "NO DRAMA".
If you're tired of going to networking meetings, passing your business cards just to get home, and realizing that you didn't make any real or authentic connections, then we are the group for you! 
You can visit us as a guest ONCE and of course, once you visit, you won't be able to not help but become a member. Warning, connecting, and collaborating with action-forward, positive women is addictive.
Featured Speaker: Megan Wilson with Activate Your Anthem
Topic: How to Activate Your Power Daily
Points to be covered:
- The importance of setting intentions for your day and how to do it.
- How to reframe negative thoughts and self-talk.
- How to bring your body into a calm and grounded state using your breath.
- How to set up an efficient day (beginning, middle, and end).
About our Speaker:
Megan made a career being a professional dancer and showgirl here in Las Vegas for 10 years before feeling called to a different kind of Performance.
Having a mindful and meaningful performance in Life was Megan's new focus. In this chapter of her life, she is a Mindset Coach who is helping women to activate their own power daily so they can create their own inspiring life.
Please don't be shy!  We'd love for you to be our guest, and bring a guest with you too. We love making new connections and relationships. 
Tips to Make Your Visit Awesome:
Plan to arrive 30 minutes early to connect with the other amazing women
The meeting will begin promptly at 6:30 PM
Bring your business cards and/or one piece of marketing material, we have a special spot for you to place them on (no cards or material are passed during the meeting.)
Please support our venue and plan to purchase your own Meal and Drink.
There is plenty of parking available!
Meeting Details
| | |
| --- | --- |
| Meeting Start Date/Time | 11-10-2021 6:00 pm |
| Meeting End Date/Time | 11-10-2021 8:00 pm |
| Capacity | 30 |
| Registered | 8 |
| Remaining Seats Available | 22 |
| Speaker | Megan Wilson |
| Location | Nacho Daddy's Summerlin |