Coffee Connect: 8:30am EST; Ingredient Safety for Skin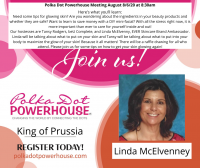 Start your day off with this positive, encouraging meeting! See the attached image for speaker info!
THIS MORNING MEETING was for those who want to CRUSH their goals EARLY! Instead of the guest speaker you will find at our lunch meeting, speakers for the MORNING meeting are members of our chapter. Topics will be selected by the chapter leadership team and focused on education and empowerment of the chapter - no sales pitches!
THIS MEETING IS VIRTUAL. Zoom link to be provided in email. 
Guest Speaker: Our very own dot, Linda McElvenney and her business associate, will be discussing some hazardous and concerning ingredients in personal care products that you may want to look out for.  
Workshop Overview: Need some tips for glowing skin? Are you wondering about the ingredients in your beauty products and whether they are safe? Want to learn to save money with a DIY mini-facial? With all the stress right now, it is more important than ever to care for yourself inside and out!

Our hostesses are Tansy Rodgers, beU Complete, and Linda McElvenny, EVER Skincare Brand Ambassador. Linda will be talking about what to put on your skin and Tansy will be talking about what to put into your body to maximize the glow of your skin! Because it all matters! There will be a raffle drawing for all who attend. Please join us for some tips on how to get your skin glowing again!
Cost: The cost to attend the meeting is $FREE as we are JUST starting it out and will meet in a common area. 
Bring coffee or tea!
 >>We provide a roster of all meeting attendees to the group.  YOU MUST REGISTER by MIDNIGHT the night before the meeting in order to have your name and business information included on our roster that we hand out at the meeting.
OPEN NETWORKING BEGINS AT 8:00am with meeting to start promptly at 8:30am. Please feel free to BYO beverage or meal.
PLEASE allow for enough time to find the location and parking. We will meet at Wegmans in the SEATING AREA all the way in the back! This is temporary until we assess how popular the meeting time is!
Please reach out to the managing directory, Jessica DeLuise, at This email address is being protected from spambots. You need JavaScript enabled to view it. if you have questions! 
Meeting Details
| | |
| --- | --- |
| Meeting Start Date/Time | 08-20-2020 8:30 am |
| Meeting End Date/Time | 08-20-2020 10:00 am |
| Capacity | Unlimited |
| Registered | 10 |
| Location | Outside Tent |