VIRTUAL August Lunch Connect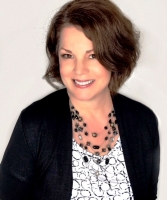 Come connect and be inspired by other professionals, entrepreneurs, and visionaries in the area. Our goal at Polka Dot Powerhouse is to connect the world's most positive, action-forward, drama-free business women. We connect them to build relationship, collaborate and do business together. This is not your typical networking group, PDP is about making genuine connections with women that lift you up and want you to succeed.
Our meetings are the second Tuesday of the month from 11:30 am-1:30 pm
August speaker - Rhoda Foley
Rhoda has been a licensed esthetician since 2004, and although she didn't set out to be a massage therapist, she did also get certified in that arena as well in 2004. She opened Skin to Adohr "chapter 1" in Northern CA and 11 years later, she moved to Franklin, TN with her husband. In 2017, she opened Skin to Adohr "chapter 2" in Franklin. Although Rhoda loves helping people improve the look and feel of their skin, the real reward is that every person she works with is able to get a much needed time- out and t.l.c. for themselves, and it shows on their faces when the service is complete. With extensive training and many years of hands on experience, you could say that Rhoda is an expert on the healing powers of touch. She has learned from the reactions of her clients over the years that touch is something that everyone needs and craves, and it is something that is lacking for many in this day and age.
The Power of Touch- Why We Crave It and Why We Love Hugs! We hug others when we're excited, happy, sad or trying to comfort. Hugging, it seems, is universally comforting. So how do we navigate in the era of Covid-19?
Meeting Details
| | |
| --- | --- |
| Meeting Start Date/Time | 08-11-2020 11:30 am |
| Meeting End Date/Time | 08-11-2020 1:30 pm |
| Capacity | 30 |
| Registered | 13 |
| Remaining Seats Available | 17 |
| Location | Zoom |