Sept 9 ZOOM 11:30am-1pm EST Speaker: Allie Mazza Topic: "Navigating the Options for Aging Parents"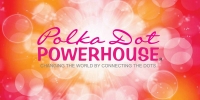 Come connect, learn, and be inspired by some of the most amazing women in the area.
Our goal at Polka Dot Powerhouse is to connect the world's most positive, action-forward business women. We connect them to build relationships, collaborate and do business together. This is not your typical networking group, PDP is about making genuine connections with women that lift you up and want you to succeed.
Our guest speaker Allie Mazza has been working in the Senior Care industry since 2010, and like many, is continually inspired by the families she gets to serve. Allie started as a caregiver, and has since worked in the in-home care arena, and extensively in the senior living community setting. After spending years selling senior communities, Allie decided she wanted to build a business that would better allow her to serve families.
Allie has a bachelor's degree in psychology and a master's degree in communication studies. She has worked in the industry in various roles including Life Enrichment as well as Sales and Marketing. Pulling from this experience, Allie is able to create custom solutions for her clients and their families that focus not only on quality of life, but also on making long term care and financially sustainable decisions.
Allie loves what she does, but even more than that, she loves who she does it for. She is lucky enough to go to work in people's homes and help them design and craft lives that are meaningful, empowering, and exciting. She gets to solve problems, build solutions, and open doorways. Not to mention the fact that she gets to meet so many amazing families.
Please register on polkadotpowerhouse.com for our September 9th meeting.
When: Wednesday, September 9 from 11:30am-1:00pm EST
Where: www.teaminspirationzoom.com
How: Log onto www.teaminspirationzoom.com a few minutes before 11:30am.
Meeting ID#: 588 015 1633
Meeting Details
| | |
| --- | --- |
| Meeting Start Date/Time | 09-09-2020 11:30 am |
| Meeting End Date/Time | 09-09-2020 1:30 pm |
| Capacity | 30 |
| Registered | 16 |
| Remaining Seats Available | 14 |
| Speaker | Allie Mazza: "Navigating the Options for Aging Parents" |
| Number Hours | 1.5 hours |