9/14 -Central Valley, CA-11:15 AM PST/ TOPIC: Intentions...Mindfully choose how YOU want to SHOW UP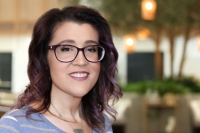 TOPIC: Intentions...Mindfully choose how YOU want to SHOW UP 
NONE of us ever expected the pandemic and we are faced every day with  NEW challenges.
Join us and learn from speaker Kelly Sayre Fox, to shift our focus and learn how to mindfully choose how we want to show up.    
 Bio: 
Kelly graduated from the Fearless Living Institue in 2008. She has completed the certified fearless trainer certificate. She wants all to know of their individual worth and unique contribution to the world is needed. 
Kelly is a wife and mom of 6 kids. She started life coaching 12 years ago. She supports you to see yourself first, then to go out into the world shining authentically for all to see.  
Meeting Details
| | |
| --- | --- |
| Meeting Start Date/Time | 09-14-2020 11:15 am |
| Meeting End Date/Time | 09-14-2020 1:00 pm |
| Capacity | 35 |
| Registered | 18 |
| Remaining Seats Available | 17 |