Canada Online - Wednesday August 19th, 2020, 9:30 am -11:30 am PST, Elaine Turso - Shine Bright! Learn about Diamond Membership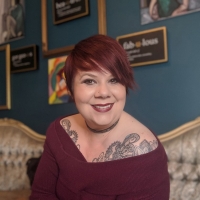 Join other ACTION forward women who gather as resources to support each other to reach that next level in all aspects of life.
WHEN: Wednesday, Aug. 19th, 2020
TIME: 9:30 AM- 11:30 AM PST
WHERE: Join us via ZOOM
We follow a set agenda so come prepared to introduce yourself, represent your business, share news about you & post your links in the chat.
Each month we feature a different TOPIC with speakers who educate our attendees with their expertise (20 minutes)
Our speakers do not sell their products or services.
Meet our Featured Speaker - Elaine Turso:
Coming to us from Bremerton, Washington, Elaine is a wife to Mike, Mother to Alexis and Anthony and 3 dogs!
Elain is a multi-passionate entrepreneur with a background in photography, and is not afraid to say it as she sees it! She is the author of the book "Getting UnF***ed and then getting Naked". A Small business strategist, Elaine "The Brain" helps entrepreneurs find the clarity that they seek through consulting and coaching. Her program Business Re-Boot Camp 2.0 has become quite the hit was a collaboration with over 25 dot sisters!
She's held various leadership roles with PDP, and is currently the Managing Director for Diamond Membership.
In this interactive meeting you will Come away with these gems:
1 – What is Diamond Membership
2 - Who Diamond Membership is for
3 – Perks and Programs in Diamond
This promises to be an exciting meeting filled with fun, learning and growth. Looking forward to seeing you there!
Michelle Slaney-Trovato
Canada Connection Coordinator
This email address is being protected from spambots. You need JavaScript enabled to view it.
Meeting Details
| | |
| --- | --- |
| Meeting Start Date/Time | 08-19-2020 9:30 am |
| Meeting End Date/Time | 08-19-2020 11:30 am |
| Capacity | 30 |
| Registered | 25 |
| Remaining Seats Available | 5 |
| Speaker | Elaine Turso |
| Number Hours | 2 |
| Location | Canada Online |