Canada Online - Feb 13th 2023, 11:30 am - 1:30 pm pst - Andrea Stenberg: How and Why to Use Short Live Video as the Foundation of Your Marketing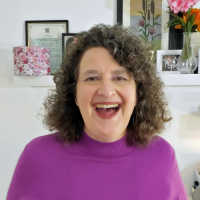 Join other ACTION forward women who gather as resources to support each other to reach that next level in all aspects of life.
WHEN: Monday, Feb. 13th, 2023
TIME: 11:30 am - 1:30 am PST/12:30 - 2:30 MTN/2:30 - 4:30 EST
WHERE: Join us via ZOOM (link will be emailed out to people the day before the meeting)
We follow a set agenda so come prepared to introduce yourself, represent your business, share news about you & post your links in the chat.
Each month we feature a different TOPIC with speakers who educate our attendees with their expertise (20 minutes)
Our speakers do not sell their products or services.
Meet our featured speaker - Andrea Stenberg!
Andrea Stenberg is a video marketing strategist, helping coaches and other experts use short live video to get new clients.
If you don't know what to say, hate how you look and are intimidated by the technology, Andrea helps you quickly and confidently make client attracting videos. Stop making it up as you go along and start using a proven video strategy to attract new clients.
An award-winning blogger, Andrea's experience includes: helping a client land a major institutional client from one short video, creating a marketing campaign that generated $1.3 million in sales in a single year, growing a client's Facebook page by 361% in two months, being in the top 5% of most viewed profiles on LinkedIn.
In this presentation, you will learn:
3 reasons live video is a better choice than pre-recorded video

Simple strategies to make professional videos more quickly

How short live videos can and should be the foundation of your online marketing
This promises to be an exciting meeting filled with fun, learning and growth.  Looking forward to seeing you there! Register early as these meetings fill fast!!
Michelle Slaney-Trovato
Canada Connection Coordinator
This email address is being protected from spambots. You need JavaScript enabled to view it.
Meeting Details
| | |
| --- | --- |
| Meeting Start Date/Time | 02-13-2023 11:30 am |
| Meeting End Date/Time | 02-13-2023 1:30 pm |
| Capacity | 35 |
| Registered | 20 |
| Remaining Seats Available | 15 |
| Speaker | Andrea Stenberg |
| Location | Canada Online |