Weds 8/17/22 12:30 MT Lunch and Learn Virtual Open House and Zoom Meeting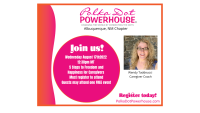 Join us for our monthly Lunch and Learn Virtual Open House and Zoom Meeting! Wednesday August 17, 2022 at 12:30pm Mountain
Register to attend here: https://www.polkadotpowerhouse.com/upcoming-meetings/10165-weds-8-17-22-12-30-mt-lunch-and-learn-virtual-open-house-and-zoom-meeting
This month our speaker is Wendy Taddeucci, a Caregiver Coach who will be sharing about 5 Steps to Freedom and Happiness for Caregivers.
3 Main Points:
1) Why it's important to finally have the energy to focus on your own physical health, no matter what situation you are in (even if you think all is lost and overcoming your issues are impossible)
2) Why experiencing a better quality of life (for both you and your loved one), managing care from anywhere in the world and experiencing more of a closeness and better communication is important.
3) Why setting boundaries around stress, guilt, worry & where you are avoiding pressure & thinking too far ahead will help you to have more energy for yourself and treasure your lifestyle even more creates a win-win situation for both you and your loved one.
3 Takeaways:
1) Knowing that it is okay, more than okay, to put themselves first 2) Resources for support 3) Becoming aware of what they aren't facing, where they are looking too far ahead and why it's important to set boundaries
The mission of our group is to lift women up in both their business and personal life. If you are looking for more positive interactions that will propel you forward, this is a fantastic place to be! If you are a guest (non-member), your first visit is FREE!
The host each month will be a featured Polka Dot Powerhouse member. This online connect meeting is a wonderful opportunity to interact with Polka Dot Powerhouse Members and guests once a month with a dynamic speaker, connections, collaborations and celebrations!
We utilize Zoom for our online meeting, and you will see the link in the description of the meeting for which you registered. You will also receive a confirmation email that will include the Zoom meeting link, time, and date of the meeting.
Come learn, network, and be inspired with other women professionals, business owners, entrepreneurs, and visionaries! We can't wait to connect!
Meeting Details
| | |
| --- | --- |
| Meeting Start Date/Time | 08-17-2022 12:30 pm |
| Meeting End Date/Time | 08-17-2022 1:30 pm |
| Capacity | 25 |
| Registered | 9 |
| Remaining Seats Available | 16 |
| Speaker | Wendy Taddeucci |