San Mateo Business Connect 1st Tuesday of December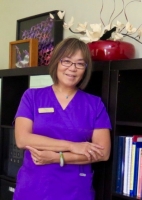 Today's Presenter is....
Lorraine Mock, LAc
Her presentation will be on Treating Eczema with Traditional Chinese Medicine, by using Chinese herbs in an internal formula, herbal creams and soaks.
She will briefly go over general information on eczema and how Chinese medicine goes about treating it.
Lorraine Mock is a California Board Licensed Acupuncturist; specializing in Woman's Health, Acute/Chronic pain and skin issues.
Prior to becoming an acupuncturist, she worked in the medical field for over 20 years. First, as a Clinical Laboratory Scientist and later as a Massage Therapist doing Swedish massage, Zen Shiatsu, Acupressure and Tui Na (Chinese massage).
She earned a Masters of Science degree in Oriental Medicine at the American College of Traditional Chinese Medicine located in San Francisco where she gained experience in treating all medical conditions.
She completed the first TCM Dermatology Certificate program in the US taught by Prof Jialing Yu, a well-known TCM Dermatology specialist and followed her in her clinic. Recently, she finished Mazin Al-Khafaji's Dermatology Diploma program.
Currently, she is a governing member and Secretary for the Peninsula Wellness Alliance, the Healthcare Committee of the San Mateo Chamber of Commerce,
Lorraine is a 4th Generation San Francisco native who enjoys art & music, does arts and crafts (origami, knitting, Chinese brush painting) and loves her newest passion, ballroom dancing!
Come learn, network, and be inspired with other area professionals, business owners, entrepreneurs, and visionaries. 
We open for registration at 11am and ask that you be there no later than 11.15 so you have a chance to mingle a bit with the members and other guests before we sit down at 11.30 for lunch and our agenda.
We know you will love our agenda which not only gives you a chance to introduce yourself to all of us, but you also hear the same from each of us, plus we talk about collaborations and celebrations, who have what events coming up, maybe somebody needs help with something etc. etc. Additionally, we have a speaker each month, who will present on a topic which will educate and benefit us all, whether that be in our businesses or personal lives.
Purchase your own lunch. Limited seating! Only those who register are confirmed a seat. Spread the word to others who may be interested in attending. 
Please contact Managing Director Catherine Miller at cmiller518@yahoo.com or 650-814-0063 for more information. Hope to see you there...it's time to connect!
Meeting Details
| | |
| --- | --- |
| Meeting Start Date/Time | 12-05-2017 11:15 am |
| Capacity | 30 |
| Registered | 22 |
| Remaining Seats Available | 8 |
| Location | Mimi's Cafe |