Finding the Right Customers - November 14th 2019 11:30am Lunch Connect - Round Table Pizza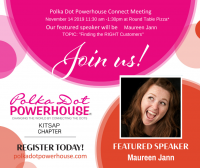 Join us for our Connect Meeting! Meet new people. Make new friends. Make new connections. Find new collaboration partners! 
FOR THIS MEETING ONLY, we are meeting at Round Table Pizza. Please come early if you would like to order food. 
GUEST SPEAKER: Maureen Jann, Finding the Right Customers 
When building or growing a business it can be easy to get lost in the busy-ness of marketing. Ultimately, unless your are ruthlessly prioritizing, it's unlikely you'll be able to work, see your family and sleep. Join Maureen Jann, Chief Strategist and Founder of SuperDeluxe Marketing to learn how to create a system for finding the types of customers that bring you the most money, help drive your business forward and don't suck your soul in the process. 
Are you ready to TAKE ACTION?
POSITIVITY - CONNECTION - COLLABORATION - CELEBRATION 
POLKA DOT POWERHOUSE - When you are ready to accept nothing but the BEST from yourself and those around you!
The mission of our group is to lift women up in both their business and personal life. If you are looking for more positive interactions that will propel you forward, this is a fantastic place to be! If you are a guest (non-member), we welcome you to attend one meeting for free.
Our meeting is a wonderful opportunity to interact with Polka Dot Powerhouse Members and guests several times a month with a dynamic speaker, connections, collaborations and celebrations!
TOP 10 REASONS YOU SHOULD JOIN POLKADOT:
1. Sisterhood - you'll have a 'tribe" of women to help support and uplift you
2. Community - acceptance and unity within our sisterhood of women to help generate success
3. Connections - networking and connecting is invaluable to every business
4. Positivity - being positive is contagious and generates positive relationships
5. Drama Free - we pride ourselves on NO drama
6. Collaboration - sharing and collaborating fosters growth both personally and professionally
7. Celebration - we celebrate ALL your accomplishments and achievements
8. Education - by helping educate each other on how to be better, we grow together
9. Empowerment - ALL women should be empowered to go after their dreams and goals
10. Support - by supporting on another, we empower each other
Come learn, network, and be inspired with other professionals, business owners, entrepreneurs, and visionaries! We can't wait to connect!
Meeting Details
| | |
| --- | --- |
| Meeting Start Date/Time | 11-14-2019 11:00 am |
| Meeting End Date/Time | 11-14-2019 1:30 pm |
| Capacity | 30 |
| Registered | 16 |
| Remaining Seats Available | 14 |
| Speaker | Maureen Jann |
| Location | Round Table Pizza |