PDP International Online Zoom Evening Connect-Mar 3 (7pm CST)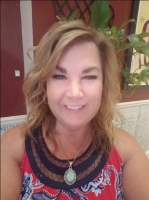 3 Steps to change your Mindset in and out of a world Pandemic!
I have some amazing life experiences and I love to share with you how I survived and conquered my fabulous life. My child was 2 years old when diagnosed with cancer (and had 10 major surgeries in a period of 9 years). I was married for 15 years and now not married. I am in an amazing relationship for 6 wonderful years. My partner (Peter) just survived a heart transplant and is thriving. I have a successful insurance agency for the last 22 years. How have I done this successfully? Well the first part of my life I had a lot of fun. Then things changed in my 40's and I really had to learn to adapt, but what made me Thrive was the philosophy of using meditation, yoga, and the law of attraction principles. I have turned my education from REAL life experiences: Cancer, Heart Disease, and Divorce into a successful career of finding Joy and manifesting amazing experiences. I smile, sing, and really thrive on finding peace and happiness every day.
I have manifested a baby, two amazing careers, house, yoga studio, dog, my amazing life partner, trips that are out of this world and so much more. Every month I manifest something unique and fun.
I am sharing my stories to help others find more peace, balance, and joy in their lives.
Meeting Details
| | |
| --- | --- |
| Meeting Start Date/Time | 03-03-2021 7:00 pm |
| Meeting End Date/Time | 03-03-2021 9:00 pm |
| Capacity | 50 |
| Registered | 32 |
| Remaining Seats Available | 18 |
| Speaker | KK Kinney |