11:00AM Central - August Meeting South Austin/Kyle, TX on ZOOM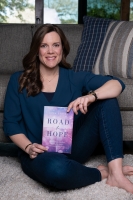 Speaker: Dena Jansen, founder of Dena Speaks
Topic: Showing Up for Your Potential: Pandemic Style!
Post-pandemic life has us focused on masks, distance, and countless unknowns! There is one fact though that remains true and unchanged—many women harbor unspoken dreams and untapped potential longing to be pursued. Yet all too often, strong-willed women hold themselves back clinging to their doubts and fear. But the time has come to take off the masks we might hide behind and take action! I'll bring an authentic and grace-based discussion on how we can show up as a true #POTENTIALSeeker. I believe showing up requires 3 things - humble curiosity, everyday bravery, and disciplined consistency. I'll bring personal stories and lessons learned as shared in Road to Hope and offer a personal exercise for every woman to participate in to show themselves some love as well! This presentation allows for a really great follow up presentation Committing to the Pursuit of Our Potential as well! So feel free to let me know if you'd want me to submit another application for that!
Speaker Bio: Dena Jansen's calling to lift others up is profoundly personal. She understands the fears and doubts that hold people back because she has them too. Her own path to fulfillment is a real-life journey that's still very much in progress. As a CPA and retired partner from Austin-based CPA firm Maxwell Locke & Ritter, she launched Dena Speaks to inspire potential seeking individuals and businesses ready to take control of their lives and make personal and professional dreams become reality! She shares her passion for potential through her work as an author of her first memoir, Road to Hope, coach, speaker, and producer of her Ready or Not annual women's conference. Dena shares life and love with her husband, JP, and their two children, Trace, and Elizabeth in Buda, Texas. She loves watching romantic comedy movies, listening to podcasts, and spending time with her family and friends. She also believes in giving back to the community and serves on several nonprofit boards and committees.
Email with zoom link will be sent out the day before the meeting
Meeting Details
| | |
| --- | --- |
| Meeting Start Date/Time | 08-13-2020 11:00 am |
| Meeting End Date/Time | 08-13-2020 1:00 pm |
| Capacity | 40 |
| Registered | 15 |
| Remaining Seats Available | 25 |
| Number Hours | 2 |
| Location | ONLINE ZOOM - S.Austin/Kyle |