2/10 Monthly Zoom Chapter Meeting, 11:30-1:30 PT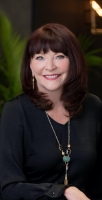 We are excited to welcome Gwen Krilova!
Gwen Krilova is a highly skilled entrepreneur, sales leader and trainer, and coach, supporting female sales professionals and entrepreneurs to achieve exceptional sales results. With 30+ years sales/sales leadership experience, she understands the common thought traps for most women in sales including the mindset of not wanting to seem 'too pushy', fear of rejection and fear of judgment. Beyond helping women learn and understand the components of the sales cycle, Gwen's passion is to help women unlock their potential by overcoming their limiting beliefs and gaining the confidence necessary to not just survive but to thrive in their sales careers and businesses.
She can be reached at This email address is being protected from spambots. You need JavaScript enabled to view it.
Presentation: Eight Tips for Becoming Confident in Sales
Most entrepreneurs have no formal sales training—and this critical skill can make the difference between success and super-success!  Join Gwen Krilova, sales training and coaching expert, for a lively presentation where she will share, "Eight Tips for Becoming Confident in Sales." 
Gwen will help you discover the mindset shift needed to move you from a fear of being pushy to a becoming a lover of sales! (Seriously, it's possible!) You will learn how to relate to prospective clients so that they feel like you are helping them, rather than selling to them. With passion and levity, Gwen will share the advice that she wishes she had received early in her selling career and will leave you with some simple strategies to ensure that you are in conversation with a lot of prospective clients while maintaining control of the sales cycle.
As a result of attending this presentation, you will:
Develop a positive mindset around the skill of selling 
Propose your product/service with increased confidence
Identify and eliminate the traps that can kill a sale
Understand the specific steps you must take to increase your sales
Overcome your fear of rejection 
Meeting Details
| | |
| --- | --- |
| Meeting Start Date/Time | 02-10-2021 11:30 am |
| Meeting End Date/Time | 02-10-2021 1:30 pm |
| Capacity | 30 |
| Registered | 30 |
| Remaining Seats Available | 0 |
| Location | online/zoom |