MV MA 1.19.22 Evening Connect @KJ's Caffe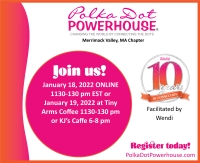 New Members are welcome and can join and guests will be treated to one free event. 
Please select a menu item when you arrive, all menu items are $20 inclusive that include a bag of chips and drink.
Speaker: Facilitated by Wendi
Title: Your hopes, goals and manifestations for 2022!
Description: Let's celebrate together our goals, hopes, plans and manifestations for 2022.  We will spend time reflecting and answering our own questions for 2022. We will get some clarity, set up some accountability and best of all write or draw a message to yourself to be sent back to you after 2022.  We will connect with ourselves and others in an inspired time of dreaming. 
Takeaways:
1. A note or drawing to yourself about your hopes/dreams/plans
2. Questions to ponder as you plan, set goals and manifest
3. Greater connection with your Dot sisters and ways to help and support them in 2022
Meeting Details
| | |
| --- | --- |
| Meeting Start Date/Time | 01-19-2022 6:00 pm |
| Meeting End Date/Time | 01-19-2022 8:00 pm |
| Capacity | 30 |
| Registered | 16 |
| Remaining Seats Available | 14 |
| Location | KJ's Caffe |