August 19, 2020 8:30am EDT Zoom Connect Meeting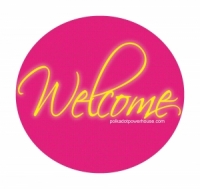 Bring your positivity, your collaborative side, and your joy. Leave your drama llama outside. Only those who register are confirmed a seat.
WHAT TO KNOW IN ADVANCE OF ATTENDING A MEETING:
Arrival: Bring your smiling face and we'll make sure you feel comfortable when you arrive!
Check-In: Arrive 15-30 min. early to login to Zoom, network, AND say Hi!
Introductions: Each person has 45 seconds to share about themselves and/or business during our introductions (there will be a cheatsheet too!).
PDP is different! Polka Dot Powerhouse is different than other networking groups. Women join PDP for an assortment of reasons or seasons in their life.
Some come for personal relationships, and some for business.
Build relationships first! We believe in building connections and relationships first. This way, those looking to do business together will do so organically and naturally because people tend to do business with people they know, like, and trust.
Cancellations: Our meetings are registered for a full house with a waiting list. If for any reason you are not able to attend, we ask that you let me know
(Email or text me: 302-362-2033/This email address is being protected from spambots. You need JavaScript enabled to view it.) so we can fill your spot with someone on the waiting list.
Guests may attend one meeting at any local chapter or online once, then we ask you to make a decision to join if you want to attend another local or online meeting.
Looking forward to seeing you!
Hugs,
Kari Ainsworth
Managing Director
CLICK ON THE REGISTRATION BUTTON BELOW!
THEN DON'T FORGET TO CLICK THE "PROCESS REGISTRATION" BUTTON AFTER YOU FILL OUT THE FORM!
Don't be shy! Invite a friend to join you. Our meeting is a "guest friendly" connect, and we love making new connections and creating new relationships.
It's time to connect! We hope to see you there.
Meeting Details
| | |
| --- | --- |
| Meeting Start Date/Time | 08-19-2020 8:30 am |
| Meeting End Date/Time | 08-19-2020 10:30 am |
| Capacity | 60 |
| Registered | 17 |
| Remaining Seats Available | 43 |
| Location | ZOOM |