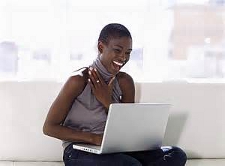 DOT Sisters!  Do you have a story or business knowledge to share? We want to feature you on our Expert Blog.
Please review our blog requirements here, and then send your submission to paige@polkadotpowerhouse.com
We can't wait to feature you!
About this article...

Written by

Tiffany Carroll
Well I did it. I completed all of my personal goals and almost hit all of my business goals for 2014. I was a little late to the game on goal-setting, though. I didn't really start setting my goals until March. I never really knew how or where to begin; goals were so overwhelming to me until I learned how to do it. I know I am not the only one who thinks this way, so I am going to share with you tips that I have learned and what really helped me.
Write it Out
No matter how simple or silly you think something may sound in your head as a goal, if you want to achieve it, write it down. I like to organize my goals into categories so they are very easy to reference (Business, Personal, Health, Financial, etc.).
About this article...

Written by

Andrea Gribble
I'm just about to celebrate a big milestone – one year in business for myself! I am so excited about 2015. I've found a real niche working with schools to use social media to tell their story.
But don't think I haven't struggled. I'm a single Mom and had to fight off two lucrative job offers to start working for someone else. One day, I was convinced that I needed to take the "steady" paycheck, while the next day I knew that I had so much more to give the world in running my own business.
So what else have I learned? So much that I could write a book. But today, I will share just 5 things.
About this article...

Written by

Dana Bauer
Well, here we are a month in to 2015. Did you have a resolution for health related issues? Are you keeping up or has it begun to slip away with the hustle and bustle? Most people start off the year with a bang and then goals may start to slip away and we fall back into comfortable routines. According to statistics from StatisticBrain.com 45% of Americans usually make a New Year's resolution however 8% of the people are successful in achieving their resolution. 75% maintain their resolution through the first week yet only 46% continue to maintain for 6 months. In 2014 the top resolution was to lose weight and #5 on the list was to stay fit and healthy.
About this article...

Written by

Orema J. Roark ("O")
Sooooo Excited! Recently reached a goal I first stated in our Joliet Chapter meeting after I became a member!!  Wait - For - It.......I have been promoted to Senior Marketing Director with WFG (World Financial Group, owned by Transamerica Financial Advisorys, Inc). This is a major career opportunity!!! Thanks to all that were so very supportive.

"O"
Subcategories