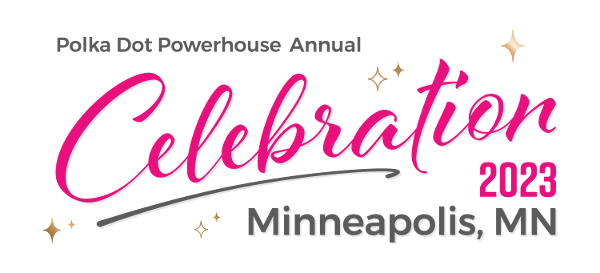 Frequently Asked Questions
What is Celebration?
Celebration is the annual convention for Polka Dot Powerhouse. It is held over a two-day period each Fall. During these two days you will experience speakers, connection activities, motivation, and inspiration. There are as many Celebration stories from those who have attended over the years. For some, it's a marvelous time for personal connections; for others, it's a wonderful time of re-energizing; and for others, it's a time of incredible growth. What will your Celebration story be? We can't wait to hear it.
Where is it being held?
The location of Celebration changes every year, with every odd year being held in Minneapolis, Minnesota. 2023 Celebration is being held in Minneapolis, MN at Minneapolis Marriot City Center 30 South 7th Street, Minneaplis, Minnesota 55402.
Who can attend?
All current Polka Dot Powerhouse Members are eligible to register for the event, while tickets are available. Only registered Members can attend the daytime sessions. Additional Guest Passes for registered Members can purchased for a spouse/guest to attend the two (2) evening events only.
What are the dates?
The dates for 2023 Celebration are October 13 and 14.
What is the agenda for Celebration?
Be sure to check either the Celebration page on the website or the Celebration Facebook group for the most up-to-date agenda and details. Typically, you can expect the following:
Thursday Day: Leadership Day
Thursday Night: Registration
Early Morning: Registration
Friday Mid-Morning: Celebration Opening and Scheduled Events
Friday Night: Pink & Orange Party
Saturday Morning: Scheduled Events
Saturday Afternoon: Scheduled Events
Saturday Evening: Awards Gala Dinner
Is there a theme for Celebration?
Yes, every year there is a new overall theme. The theme for 2023 is "It's GLOW Time". Each Dot Sister brings their own special glow to our community.
What do I wear during the day?
Please feel free to wear whatever makes you feel comfortable. Many Members prefer to dress casual or business casual for the daytime sessions.
What is the Pink & Orange Party?
The Pink & Orange party is our annual event to relish in all things Polka Dot Powerhouse & we've got you covered. If you like to dance like no one is watching - we have a fabulous DJ ready to entertain. If you want to mix, mingle & nibble - dinner is included while you connect. If you are ready to smile, laugh and take Instagram pics - we supply the fun for that too. It occurs on the Friday evening of Celebration. All registered Dot Sisters and registered Guests are welcome to attend the party. This is your prime time to wear your Pink and Orange gear. Many chapters coordinate and identify a theme, so be sure to check with your Managing Director for details. A light & fun meal is provided.
What is the Gala Dress Code?
You can wear whatever makes you feel most comfortable, beautiful and powerful. Many attendees opt to wear cocktail attire, dresses, or gowns. The deliciously curated meal is included for the Member and for an additional fee for a registered guest. For 2023, the Awards Gala Theme color is Gold. The Awards Gala is always held on the Saturday night of the event.
Do I have to attend everything?
Words cannot describe the energy that you feel at Celebration. Connecting fully, being open to abundance and having fun are the three pillars we share with our Dot Sisters each and every year. It is up to you what you attend, but you are encouraged to attend everything. You get out of Celebration what you put into it.
When should I arrive?
Celebration officially starts at 8:00 on Friday morning with the vendor area opening to the Dot community. Many attendees choose to arrive a day or two prior to connect with their other Polka Dot sisters from around the world.
When should I leave?
Celebration ends on Saturday night after the Awards Gala. Most attendees choose to leave Sunday or Monday to make the most of their time with their Dot Sisters.
What is covered in my ticket cost?
All daytime sessions (speakers, connection activities, etc.), entry to the Pink & Orange Party, and the Awards Gala are included in your ticket price. For an additional cost, you can add on Lunch each day and a Guest Pass Ticket to the Pink and Orange Party & the Awards Gala (both evening events).
Do people share rooms?
Hotel rooms are NOT included in your ticket price and should be booked on your own. Many people opt to share hotel rooms to keep cost down and to have additional time to connect.
Are there vendors?
Yes, there are many vendor tables available for you to purchase products or services from your Dot Sisters. They are open during varying times thoughout the event, please see the official Celebration Program for specific details. Each year we provide an opportunity for Members to purchase a vendor table. Space is limited. Come and support your Polka Dot Sisters.
Should I bring business cards?
Here at Polka Dot Powerhouse, our motto is 'Connection First'. We love it when our Members forge deeper connections and exchange information. We always recommend that Members connect on our website and on a personal level. During Celebration there may be an opportunity to leave your business card with vendors who are giving away prizes in our designated vendor area. Several Dots put labels with their contact info on the back of their cards specifically for this purpose.
Should I bring cash?
Most vendors take credit card, Venmo, cash App, etc.; however, it never hurts to have cash for other needs.
Is there anything specific for Diamond Members?
While there are no specific break-out sessions for Diamond Members, often there is a Diamond dinner. A separate communication will go out directly to Diamond Members regarding any details.
Are there any best practices for Celebration?
Our number one best practice is to have fun. We recommend setting an intention for your "Why" and what insights that you hope to take back home with you. It is always a great idea to make notes throughout the day of the people that you want to connect with after Celebration. We also ask that you give yourself space and grace to do what you need to do. Plus to stay hydrated!
What happens after Celebration?
Refuel. Follow-Up. Connect. Block time for all three of these items, and be aware you will need to regroup after being in a Dot bubble for a few days.
Do I need to check in at the event?
Yes, you will need to check in at registration to collect your name badge, swag bag, and other materials for the weekend. Please refer to the Celebration Program and Agenda for times that the registration tables will be open.
What if I'd like to register for Leadership Day, add a guest, or purchase lunch after I've registered for Celebration?
Add-ons can be purchased through the Polka Dot Powerhouse website until August 23, 2023. Log in to the website, click on "Events" --> "Celebration --> Details. It is important to click on the link as you go through the process to review your prior purchases so that you do not purchase the same option twice.
Who do I contact if I have questions not addressed here?
Please feel free to email
This email address is being protected from spambots. You need JavaScript enabled to view it.
Leadership Day
What is Leadership Day?
Leadership Day takes place on the Thursday prior to Celebration. For 2023, it is on October 12th. All Current Leadership Team Members are encouraged to register and attend, including: Managing Directors, Chapter Leadership, Company Directors and Legacy Leadership.
What time is Leadership Day?
Plan for a full day. 2023 begins at 8:30 am and ends at 4:00 pm.
As a MD, must I attend?
It is highly encouraged that you attend, however, it is not mandatory.
What is included in my cost?
The full day of connections, learning and leadership trainings, along with lunch is included in the cost.
For any additional questions, please email
This email address is being protected from spambots. You need JavaScript enabled to view it.