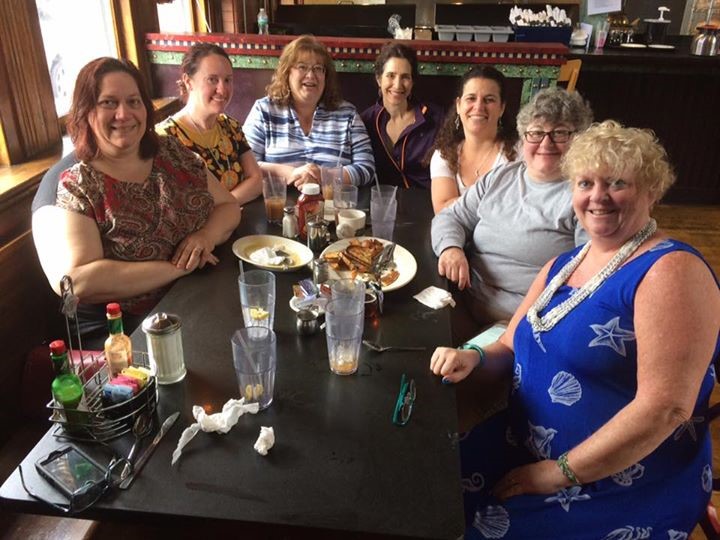 When I first heard about Polka Dot Powerhouse it was by taking a quick look at the website. Being that I am not a joiner – remember that – I scanned the site, thought "how nice!" and moved on. But I believe that sometimes, out of the blue things that pop up repeatedly can be God, the Fates, the Universe, whatever you believe tapping you on the shoulder and asking you to pay attention. And when I saw a post about a local Polka Dot Powerhouse chapter open house, I got that sit-up-and-pay-attention vibe.
I went to that Open House, KNOWING I would not be joining – not a joiner, remember? – but thinking that I could surely pass on the information to my circles for their benefit. All you need to know at this point is that within the hour, I had my credit card out and was a Founding Member of the Metrowest Chapter!
Here's what happened in that Open House. The axis on which my interest in forming relationships with these women, these strangers, shifted and I realized that the power of the positivity that Polka Dot Powerhouse creates and nurtures was like nothing else I had experienced in any sort of group.
And, almost more importantly, since experiencing the launch of my chapter, attending our local Summit and talking with other fabulous Dots around the country, I have come to realize that this is the REAL DEAL. How many times can we say that?
So now, not only am I a sticker-on-my-windshield driving, lanyard wearing, mug drinking, completely supportively outspoken member of my (awesome!) chapter, I am seeking out opportunities to support a global organization that has already in five short months opened and filled my heart with such elemental goodness. One of my driving missions is to help bring that same axis shift to other women who have, until now, only THOUGHT they knew what it was like to have found their tribe.
Not a joiner………….HAH!!
Pictured above at our super fun DOT Pop-Up Breakfast: (From left to right) Dot Sisters - Ilona Roll, Jennifer Friedman, Brenda Crawshaw, Lisa Dahl, Jody Comins, Deb Beck, Cathy McAuliffe