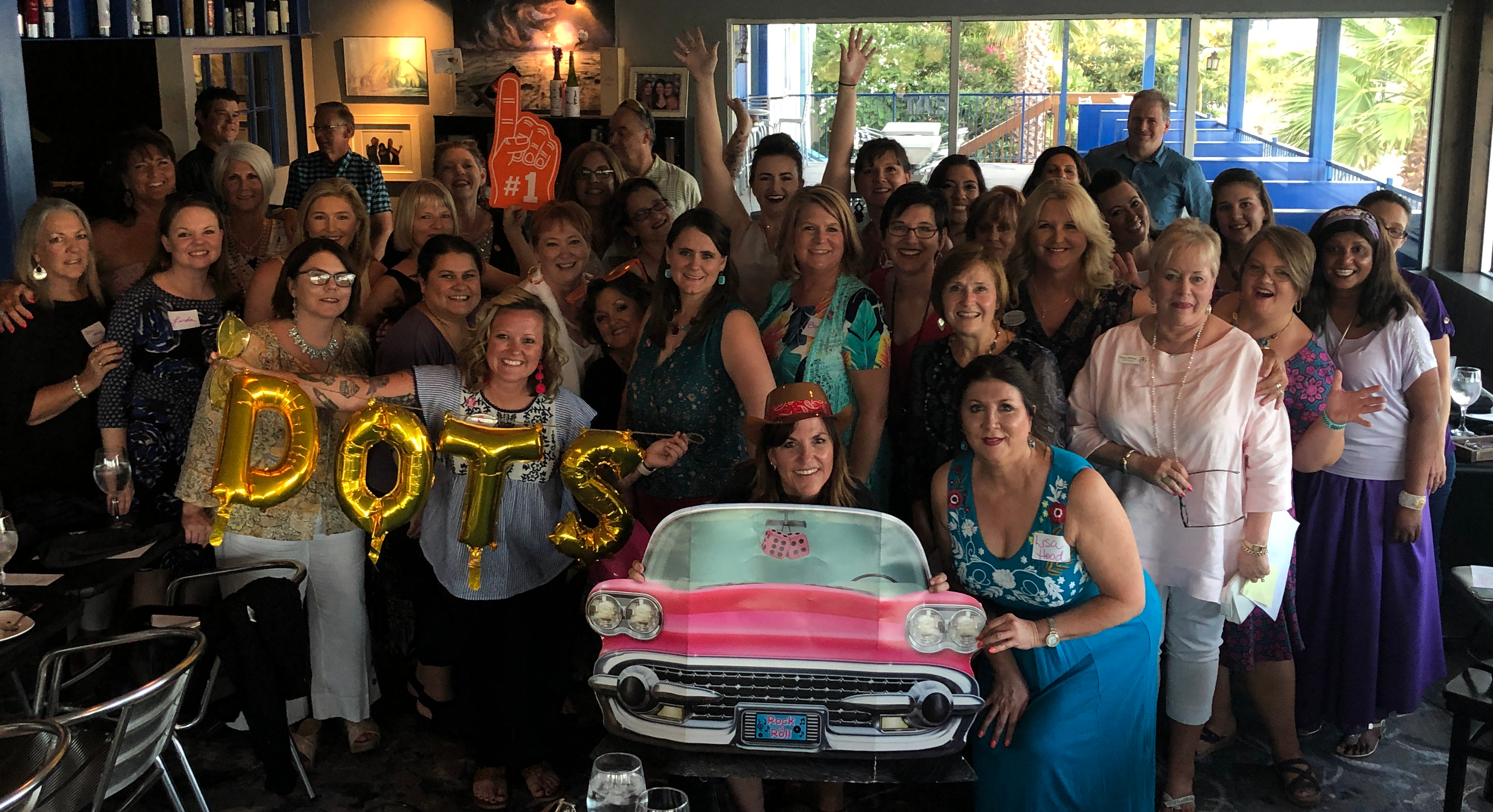 Chapter Leadership: Kortnee Whitehawk McDowell
Managing Director
210-378-7790 Jennifer Ginsberg
Maven of Magical Connections
443-528-0203 Brenda Heulitt
The Connection Protector
830-832-1674 Sabrina Caldwell
Storyteller
830-500-9987
Welcome to the Texas Hill Country Chapter of Polka Dot Powerhouse! We are a community of positive, no drama, action-oriented, fun-filled, joyous women. We connect to encourage each other in all aspects of life, not just our businesses. Our focus is on relationship and camaraderie.
New members join us to develop networking skills and to grow their business connections, but we also have members who simply want to expand their circle of friends while also connecting to the Worldwide network of Dot Sisters around the country. We are "Dots" who come together to "connect" with kindness and generosity of spirit and sisterhood.
Each of our Business Connect meetings has a balanced agenda of introductions, celebrations, inspirations, collaborations, a dynamic guest speaker, and plenty of opportunities to connect with members and guests. As we are located deep in the heart of the beautiful Texas Hill Country, most of our meetings and gatherings are hosted in gorgeous New Braunfels, but we are expanding and growing throughout the Texas Hill Country with members in Round Rock and beyond, Austin, San Antonio and everywhere in between. In addition to our monthly lunch meetings we also have Coffee Connects, Accountability Partnership Sessions, Zoom meetings, and social events.
Once you become a member, you not only have access to our local meetings, you can also visit other chapters in person and on zoom. In addition, Polka Dot Powerhouse lets you connect personally with over three thousand Polka Dot Sisters worldwide! There are twice monthly online international meetings, a members-only Facebook group, a members spotlight facebook group, and a search feature to help you connect with anyone anywhere in any industry with any hobbies and interests. Now that's an amazing thing to choose to become part of.
And!!!! (Yes there's more...) Members may even choose to upgrade to Diamond Dot Membership with access to business masterminds, world class learning opportunities, and growth sessions that will take you to the next level!
Won't you join us for all this amazing energy? We invite you to attend your first meeting or coffee as a guest. Seating is limited so reservations are required; please RSVP below.
You can also attend our free online info session to find out more about this amazing group: https://www.polkadotpowerhouse.com/what-is-pdp/sign-up
Still have questions? No problem! Reach out to Kortnee Whitehawk McDowell, otherwise known as, Kortnee "With-a-K" so we can get all your questions answered.
Or, perhaps you are ready to say YES right now? Simply click on "Join The Sisterhood" above, fill out the form, and choose our chapter by clicking on Texas Hill Country.
We sincerely look forward to meeting you soon so that we can all Rock the Dot together.
---